The Dangers of Debit Cards and Car Rentals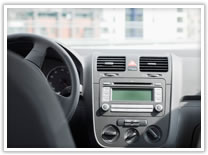 Debit cards have become a major form of payment. You most likely have one, as do most of the people you know. They allow you to make convenient day-to-day purchases without accumulating credit card debt. So when should you use them, and when is it smart to put them aside? Rental cars are one questionable purchase when it comes to debit cards. In this post, we'll discuss whether it's advisable to purchase a rental car with a debit card.
Terms of Debit Card Use Among Rental Agencies
All the major car rental agencies take debit cards, so it is not a matter of acceptance. However, some may also require a credit check in order to allow the debit card. This is to make sure you will have the funds needed if something goes wrong. You will also need proof of ID. The car rental agencies can never be to sure. They do not want to lend their car to someone who will flee the state. Many rental agencies have the ability to combine their debit cards with gift cards; you just need to know what the exact rules are. They tend to vary by agency. One of the important terms is whether or not you will need a credit card for pickup. Since the credit card is a form of credit, it insures the company will have funds. Make sure you research the credit card requirements when reserving a rental car.
Reasons You May Not Want to Use Your Debit Card
Your debit card may have a daily limit
This is important to know. A rental company may freeze the funds they need. If that is over your daily limit, then you are out of luck. You will not be able to use your card on other purchases. So that can truly become a major hassle. So if you continue to try and take out maximum funds, you will find yourself in trouble with the bank.
Funds may not be returned to your card for a few days
This is essentially the same situation. You may have some of your funds locked up by the rental company as a way to watch their back. They will release the unused funds back to you eventually, but this may not happen for a few days. You will just have to wait until the company credits your account again before you will have access to the funds.
Make sure they accept the company that issued your debit card
You need to have a debit card the rental company will accept. For example, some rental car companies might require debit cards with the Visa or MasterCard logo on them.
Using your debit card is a smart and convenient option for most purchases. With rental car purchases, however, you may be safer using a credit card. If you have concerns or questions about debit card policies, contact your card issuer or rental car agency.