How Do I Find the Expected Value of My Trade In?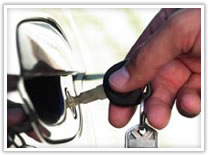 Chances are, you have already run into an opportunity to trade in your vehicle in order to get a new one. Did you have a good experience? If you are not careful, you may not get the best deal for your car. You need to know what you are looking for before you go into any trade-in. Here are some ways you can get the most from your trade-in.
Get the Best Deal For You
The best way to find the expected value of your trade in is to consult the Kelley Blue Book. You can find that online at www.kbb.com. This is a simple method of finding an accurate assessment of your vehicle's trade-in value. You can access the book online or at the local library. The book is divided up based on make, model, and the year of the car and will give you different prices depending on if you are trading it in or selling it privately. Even though consulting the Kelley Blue Book is a good start, the dealership will not necessarily offer you the same amount. But if you do not go into the trade-in with a number in mind, then you are playing into their hands. That is when they can get a leg up on you.
Dealerships Like to Be in Control
Ultimately, dealerships are able to use their discretion when deciding the value of your car. Unfortunately, dealerships will often lessen the value of your car in comparison to what you believe it's worth. Sometimes a good option is to sell the vehicle on your own, or at least attempt to, before buying a new car. You will almost always get more money by selling your own vehicle, but it isn't a guaranteed sell. On the other hand, a trade-in is easy, and you can use it towards your new vehicle, making the transition more seamless. If it is a car that has little residual value, a trade-in is probably the best option. Make sure you do as much research as you can when finding out the value of your car so you can be knowledgeable when the dealership makes you an offer. Another tip is to check out various dealerships to see how much they will offer you for a trade-in.
Just because dealerships like to be in control does not mean you will not be able to get the best deal. Remember to consult the Blue Book for the standard trade-in value and go from there. If you walk into the deal without knowing anything, you are unlikely to get the best deal. The more informed you are going into your trade-in, the more money you will receive for your car.