Before You Buy a Car, Check Insurance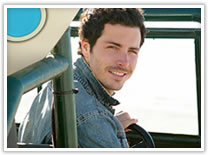 You finally have that new car, and you couldn't be happier. Sure it cost a pretty penny, but it was worth it. But hold on! Before you buy the car of your dreams, you should get an insurance quote. You should have an idea of the insurance costs associated with your new car before you purchase it. You do not want to get stuck with large payments that you cannot afford because you chose the wrong car model.
Why Should I Check Insurance?
First of all, you really should be aware of how the insurance process works with regard to automobiles. You need to know what they check for (driving history, credit score, etc.) and how they manage to come up with a deductible and payment amount. Jumping blindly into this process is not wise.
You also need to figure out what you can afford each month for insurance because different cars will carry different insurance costs. You may find that you spent a lot of money on your new car, but its insurance costs are too high for you to afford to drive it. This is especially true if you are looking to buy a sports car.
How to Go About the Process
Your credit score and credit report will be heavily weighted in the process, so you need to get all that information in order. Order a copy of your credit report from the three major credit bureaus. Check it for accuracy and make note of any possible liabilities, such as late payments.
Next, you need to know what your purchase options are. You might have two or three cars in mind at first, and you should get insurance quotes for all of these vehicles to compare. There may not be a large difference between the types of cars, but you should check anyway. If the difference is not large enough to worry about, then you can base your purchase decision on other factors.
Finally, you need to get quotes from at least three insurance companies. Do not just settle for one because you need to seek out the best deal possible. You will not know what the best deal is if you only approach one company. So get all your information together and go get those quotes. Get quotes for all the vehicles on your short list.