Should You Buy a New or Used Car?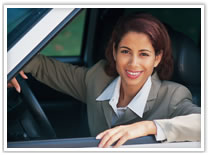 The debate has gone on for ages. Which is better: Buying a new car, or buying a used car? While no set rule can determine the victor, consumers can look at some key factors to help them decide what's best for them. At some point, your personal preferences will dictate what's best for you. Whether it's savings on an auto loan or insurance, or simply a desire for new-car smell, make sure you choose the type of vehicle that's best for you.
Rules of thumb
You should buy a new car because…
You're beating worries of depreciation. Most cars lose at least a third of their value within the first year of ownership. In fact, when you drive a new car off the lot it will probably depreciate between $1,000 and $2,000! When you buy a used car, you're getting the most bang for the buck.
You'll save money on insurance. Insurance costs are always higher for brand-new cars, and tend to decrease year after year. You can call your insurer to compare rates on different makes and model to verify the savings you will receive. Remember that your credit history and driving record will have an impact on your insurance premiums.
You can afford your high-priced tastes. Most of us have tastes and preferences that far exceed our incomes. Instead of buying a brand new sports car, you could find the same model but just a few years old and save thousands. Make sure you carefully review the vehicle's maintenance history. You could find a well-loved car that's two or three years old but looks new – and afford it.
There are perks to buying used. Depending on where you buy your vehicle, you could be eligible for extra savings and benefits. If you choose to buy your used car from a private party (not a dealership), you won't have to pay sales tax on the purchase. That in itself can save you thousands. But if you buy a used car from a dealership, you may be eligible for "certified pre-owned" extended warranties that come with added benefits and guarantees from the dealership that will protect your investment.
You should buy a used car because…
You'll be getting the latest and greatest features. Whether or not you're interested in a state-of-the-art navigation system, air bags, stability control systems or a fantastic build-in mobile phone system, you're going to be more technologically advanced in a new car. Some consumers value those features, particularly safety features, more than the simple cost of the car. Many states are passing laws that prohibit using a mobile phone without a hands-free device; a car featuring built-in Bluetooth can be particularly attractive in those states.
You don't like going to the mechanic. New cars take less maintenance. Outside of the basic oil change and tire rotation, chances are you won't have to put much money into a new car for a few years. Many new cars also come with built-in scheduled maintenance plans that are provided by the manufacturer free of charge.
You don't like the unknown. No matter how much research you do, you're never going to know exactly how well a used car was cared for. Some consumers simply don't like driving someone else's car. If you absolutely need a new-car smell, you're probably not going to want to look into a used vehicle.
You drive a lot. For drivers who spend hours and hours on the road, the idea of vehicle depreciation is a reality. If you have an extensive commute and need to drive for work, the peace of mind and security of a new car might be best for you. Used cars will require extra maintenance – and have unknown pasts. New cars have warranties, maintenance plans and are under your control. Plus, if you're reimbursed for travel expenses by your employer, it can help defray the new-car costs.